These products are currently available via the store to flat rate ship to the continental US only.  If you are outside of this area please contact duf@eucarmy.com to get an accurate estimate on shipping cost.  Please make sure to check your JUNK MAIL or SPAM FOLDER if you fail to receive an order confirmation email.  PLEASE NOTE, we have discovered the King Song pedal design (when folded up) makes them not fit on a normal width stand well.  KingSong owners should select a NARROW stand.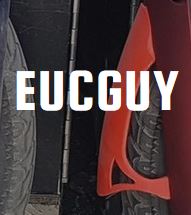 Looking for a sweet 3D printed mudguard for your Gotway wheel?
View Cart
Product successfully added to your cart.
Successfully Added to your Shopping Cart

Successfully Added to your Shopping Cart

Successfully Added to your Shopping Cart

Successfully Added to your Shopping Cart

OUT OF STOCK

Successfully Added to your Shopping Cart

Successfully Added to your Shopping Cart

Successfully Added to your Shopping Cart

Successfully Added to your Shopping Cart

Successfully Added to your Shopping Cart

Successfully Added to your Shopping Cart

Successfully Added to your Shopping Cart

Successfully Added to your Shopping Cart

Successfully Added to your Shopping Cart

Successfully Added to your Shopping Cart

Successfully Added to your Shopping Cart

Successfully Added to your Shopping Cart

Successfully Added to your Shopping Cart

OUT OF STOCK

Successfully Added to your Shopping Cart

Successfully Added to your Shopping Cart

OUT OF STOCK

Successfully Added to your Shopping Cart

Successfully Added to your Shopping Cart

Successfully Added to your Shopping Cart